Lewis Hamilton says he and Mercedes are "not that far behind" at the Dutch Grand Prix after an encouraging Friday practice for the team.
Hamilton ended the day third quickest, just 0.072 seconds off the pace set by Ferrari's Charles Leclerc, whose team-mate Carlos Sainz was second fastest.
Championship leader Max Verstappen was eighth in his Red Bull after a day hampered by reliability problems.
"It has been a decent start to the weekend," Hamilton said.
The seven-time champion's team-mate George Russell – who was fifth fastest, split from Hamilton by McLaren's Lando Norris – said: "I think we're definitely closer than we have been in a long time."
Mercedes qualified nearly two seconds off the pace at the Belgian Grand Prix last weekend, their worst performance of the year in terms of deficit to the front.
But the seaside Zandvoort track has very different characteristics from high-speed Spa-Francorchamps and that has enabled Mercedes to run the car in a set-up where it produces its best levels of aerodynamic downforce, which was not possible in Belgium.
Hamilton said: "We've landed in a much sweeter spot with the car, being as it's a much different track.
"It's a work in progress. We are not that far behind, which is great to see. And the car doesn't feel that bad. Just got to keep chipping away."
Russell, who was 0.238secs adrift of Hamilton, said he expected a tight battle in qualifying on Saturday.
"It is going to be close," Russell said. "McLaren are looking quick, even Aston Martin, and we still know qualifying is our weak point.
"The race will come towards us, our long run pace is looking strong, but you have be starting in the right position. If we start on row three it is going to be difficult to battle for first and second."
Russell said he would be "very shocked" if Mercedes were able to repeat the pole position he scored in Hungary, the race before Belgium.
"In Hungary, it was unique," he said. "Our rivals didn't quite get it right on the day and we did a stellar job and everything went towards us. And we only just pipped them."
What happened to Verstappen?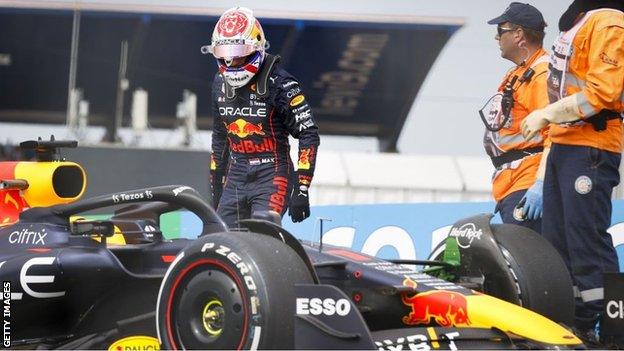 An issue with the timing data, which created a series of problems including preventing teams seeing the usual GPS traces of all cars, made it difficult for them to accurately compare performance.
But Red Bull had a troubled day anyway, caused by Verstappen's car breaking down on track after he had done only two flying laps on the hard tyre in the first session.
That led to the car being in an ill-suited set-up for the second session, leaving Red Bull plenty of analysis to do overnight to improve it.
"Missing out in P1 on the soft tyre [was a problem]," Verstappen said. "On the hard tyre, you couldn't really tell the balance because we had such little grip on that tyre. Then we were a session behind.
"We went into P2 and the balance wasn't great. But in an hour's session you can't really change the car a lot, so we just tried to deal with what we had and that wasn't great. But we have the night to looking things and for sure we can do better than this. There are a lot of things to improve on."
The Dutchman, 98 points clear of Leclerc in the championship with eight races to go, had been quickest of all at the time he broke down in the first session.
The problems meant he ran an unconventional programme in the second session, going straight from his initial series of laps into his race-simulation run on a heavy fuel load, without doing a lap on soft tyres to simulate qualifying.
He ended the session 0.697 seconds off the pace, a margin unrepresentative of his potential.
What about Ferrari?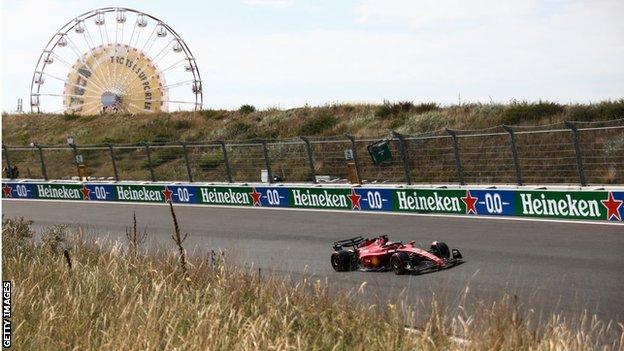 Ferrari were somewhat chastened by the huge performance advantage shown by Verstappen in Belgium but look more competitive in the Netherlands.
But Leclerc was not that pleased with his day despite setting fastest time.
"A little bit better but we are all extremely close," he said. "It is still a surprise to see everyone so close.
"I wasn't very much at ease with the car balance, so hopefully we can work in the right direction and do another step. Just in general the balance was very tricky – quite a bit of understeer, struggling to rotate the car and then it makes it quite snappy mid-corner. We need to work on that but I am confident we can make a step forward.
"Red Bull didn't have a very clean day. They had a reasonably good long run. It is going to be close for sure."
Behind Russell, Aston Martin's Lance Stroll was a surprise sixth fastest, ahead of Alpine's Fernando Alonso, Verstappen, the second Alpine of Esteban Ocon and the second McLaren of Daniel Ricciardo.